Home
Al Aqeeq Madinah Hotel
Al Aqeeq Madinah Hotel is a prestigious property, situated on Musab Bin Omair Street in the vibrant North Central Region of Al Madinah, Saudi Arabia. With its unbeatable location, the hotel is only a few steps away from the Masjid Al-Nabawi. Offering complimentary Wi-Fi throughout the property, 24-hour room service and an executive lounge.
Taiba Madinah Hotel
Taiba Madinah Hotel is a luxurious property situated just a few steps away from Bab Al Salam, Taiba Madinah Hotel offers exceptional modern accommodations. Our Fully equipped hotel features valet parking service, complimentary Wi-Fi, Gym, Sauna, Kids Day care center, and a dedicated 24-hour room service for our esteemed guests.
Taiba Front Hotel, Madinah : 3 stars
Welcome to Taiba Front Hotel, conveniently located in the Northern Central Area of Madinah, Saudi Arabia. Our 3-star hotel is just a few steps away from the Prophet's Holy Mosque, making it an ideal choice for pilgrims and travelers seeking modern accommodations. Each of our well-appointed rooms features a comfortable work desk, a flat-screen TV, air conditioning, and breathtaking views over the Prophet Holy Mosque.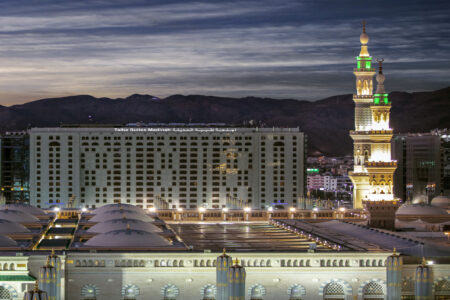 Taiba Suites Hotel
Welcome to Taiba Suites Hotel, located in the beautiful South Haram Area of Medina, Saudi Arabia. Positioned just a short walk from the revered Prophet Holy Mosque, our hotel offers contemporary and comfortable accommodations. Each of our rooms features a spacious work desk, a flat-screen TV, and air conditioning to ensure your utmost convenience. You will also enjoy breathtaking views overlooking the magnificent Prophet Holy Mosque.